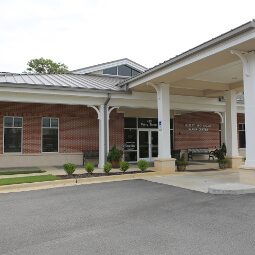 Harris Center
425 Perry St
Email:

[email protected]

Phone: (334) 501-2930
Hours:

M-F: 8AM-5PM

Ann Bergman
Public Relations Specialist
Phone: (334) 501-2936
Email:

[email protected]
LeisureLink: The City of Auburn's Parks and Recreation Weekly Newsletter
February 17 - 23, 2020
Arbor Day Tree Giveaway Saturday, February 22
The City of Auburn Tree Commission will host its annual Arbor Day Celebration on Saturday, Feb. 22, from 8 a.m. to noon at Kroger on Dean Road, Publix at Moore's Mill and Publix at Cary Creek. Members of the Auburn Tree Commission will distribute dogwood, sourwood and apple tree seedlings to citizens free of charge while supplies last at each location. Planting instructions will be included with the seedlings.
In honor of the Auburn Tree Commission's efforts and the Arbor Day Celebration, Mayor Ron Anders has issued an Arbor Day Proclamation formally declaring Feb. 22 to be Arbor Day in the City of Auburn.
Online Youth Track Registration
Online youth track registration is still open. To secure a spot, please register early because there will be a cap on the participants. Registration closes on March 6.
To register please visit: https://www.auburnalabama.org/athletics/youth-sports/
Breakfast with the Bunny Registration
Registration for Breakfast with the Bunny registration is now open! The event will be held on Saturday, April 4th, 2020 from 8-11 a.m. The breakfast is $5 per person. Children ages 3 and under are invited to meet and greet with the Easter bunny, receive balloon animals, get their face painted, and more! Each child will receive a special treat from the bunny. This can't-miss event is sure to produce some cherish family memories and adorable photo opportunities. Ticket sales end March 20.
To purchase your tickets, visit auburnalabama.org/parks/register
Active Auburn Mardi Gras Zumbathon
Grab your best Mardi Gras mask and costume and jump in line for Mardi Gras Zumbathon on Saturday, Feb. 22, from 8:45-10:30 a.m. at the Boykin Community Center gymnasium.
Zumba instructors from around the Auburn-Opelika area will lead you through some fun and festive dance moves to get your body moving! The "Best Dressed Dancer" costume contest will take place at 8:45 a.m., and Zumba will take place from 9-10:30 a.m. With parent participation, children ages 8 and older are welcome to this FREE event.
For more information, please contact Sarah Cook at [email protected].
Tails & Trails 3K Registration Open
Tails & Trails 3K early bird registration is now open until Feb. 24! Grab your running shoes and your perfect running "pawtner" for a doggone good time!
The Tails and Trails 3K will begin at 8 a.m. on Saturday, March 21, at Kiesel Park followed by Bark in the Park. Please visit auburnalabama.org/parks/register to register for the inaugural Tails and Trails 3K. A schedule of registration fees is as follows:
Early bird registration price is $15. To be guaranteed a t-shirt, participants must register by Monday, Feb. 24.
A limited number of t-shirts will be available to day-of-race participants on a first-come, first-serve basis. The Tails and Trails 3K route will be posted at activeauburn.org and auburnalabama.org/parks on Friday, Feb. 21. The Tails and Trails 3K will NOT be timed. Prizes for the top three finishers overall and awards for the best-dressed pups will be announced at 8:45 a.m. under the white pavilion. Make sure to stick around for Bark in the Park from 9 a.m.-2 p.m. and enjoy a variety of vendors promoting responsible dog ownership. Follow us on our Facebook page @activeauburn for race updates and announcements.
For more information, please contact Sarah Cook at 334-501-2948 or visit https://www.activeauburn.org/
Register for the first Ride and Seek: A Bicycle Safety Adventure
Do you have a child who loves to ride their bike, but doesn't know the rules of the road? Do you want them to feel more confident with their bicycle safety skills? If so, bring them to the first Ride and Seek: A Bicycle Safety Adventure!
The event will take place on Saturday, April 4, at the Parks and Recreation Complex located at 425 Perry St. For those who would like a T-shirt, registration will run through Friday, March 20. Walk-up registration will also be accepted on the day of the event, but no T-shirts will be available at that time.
The event will begin at 9 a.m. with stations on-site covering various bike safety topics such as helmet fitting, bike fitting, lights and reflectors and proper hand signaling. Three-mile rides will depart intermittently with opportunities to win prizes along the route! Tickets are $5 without a T-shirt or $10 with a T-shirt. Visit auburnalabama.org/rideandseek to register in advance.
Those with questions or interested in becoming a sponsor can email Gabby Filgo at [email protected].
YTC News
To read the latest news from Yarbrough Tennis Center, visit auburnalabama.org/tennis/ytc-news/.
Eric Shore Inducted into The Alabama Tennis Hall of Fame
Saturday afternoon Eric Shore was inducted into The Alabama Tennis Hall of Fame in Birmingham, Alabama. Eric Shore coached the men's tennis team at Auburn University for 20 years. He now teaches clinicas and private lessons to local resident at Yarbrough Tennis Center. Congratulations on your outstanding award!
Eric Shore Center of Photograph
Auburn Stride Walkers
Grab your sneakers and join Auburn's leisure walking program! Walkers will meet at one of our various walking trails or designated route weekly. Walks are held at your own pace and distance. Come for the fellowship, make new friends, and walk your way to a healthier lifestyle. This program is open to all ages and is free to the public. Participants are encouraged to bring bottled water and wear comfortable walking shoes. For more information, please contact Wendy Thomas at 334-501-2962. Walks will be held at the Village Mall on rainy days or when the temp. is 35 degrees and below. Call time and temp. @ 334-745-6311 for current conditions.
Walks will be held on Mondays, Wednesdays, and Fridays at 9 a.m. Participants can walk at their own pace and distance.
UPCOMING SCHEDULE:
Feb. 17 Dean Road Recreation Center
Located at 307 South Dean Road
Feb. 19 Kiesel Park
Located off Chadwick Lane
Feb. 21 Yarbrough Tennis Center
Located on Richland across from elementary school