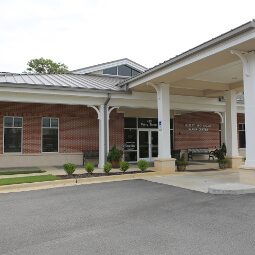 Harris Center
425 Perry St
Phone: (334) 501-2930
Hours:

M-F: 8AM-5PM

Ann Bergman
Public Relations Specialist
Phone: (334) 501-2936
Email: abergman@auburnalabama.org
LeisureLink is The City of Auburn's Parks and Recreation Weekly Newsletter
Week of September 17 - 23, 2018
Fall Sundown Concert Series begins this week Thursday, September 20 at Kiesel Park
Start game day weekends early with the Fall Sundown Concert Series every Thursday evening, September 20-October 11, from 6-7:30 p.m. at Kiesel Park! These FREE concerts feature local and regional artists playing various genres of music. The concert lineup is as follows: September 20-Jeff Gaither, September 27- Alabama Avenue, October 4- Open the Skye, and October 11- Dion Hawkins and the Experience. A food vendor and inflatable for kids will be on site. Bring the family, blanket or lawn chair and come enjoy a relaxing evening of entertainment! At the September 20 concert the Cyber Game Truck will be there and Mama's last stand will be the food vendor. For more concert details, follow the events on Facebook at facebook.com/CityofAuburnAL.
Auburn Arts Association Fall Invitational 52 Painting for 52 Strangers
The Auburn Arts Association is pleased to present its Fall Invitational exhibition, "52 Paintings for 52 Strangers" on display at the Jan Dempsey Community Arts Center Sept. 12 thru Oct. 10.
The artist, Bay Kelley, met with over fifty friendly "strangers" weekly during the past year and a half. After candid conversations with each person, he painted his interpretations of the identities they shared. All paintings are 6" x 6" works on canvas. As a community art project, the exhibition has been endorsed by the Alabama Bicentennial Commission. It exemplifies the bicentennial's themes of "Honoring Our People" (2018) and "Sharing Our Stories" (2019).
The exhibition will close with an additional reception on Oct. 10. It will feature a sampling of the project's voices including an artist talk and open conversation.
Exhibits are free and open to the public Monday - Friday, 8 a.m. - 5 p.m. For more information and gallery hours, please visit www.auburnalabama.org/arts or contact the Jan Dempsey Community Arts Center at 501-2963.
Youth and High School Basketball Registration begins online Monday, September 24
Auburn Parks and Recreation's online youth and high school basketball registration begins Monday, September 24. Youth registration is open to students in grades 1-7 and high school is open to students in grades 8-12. To register, visit https://www.auburnalabama.org/basketball/.
Boykin Community Center's New Fitness Center now open
The Boykin Community Center's new Fitness Center is now open to the public. The center opened Tuesday, Sept. 4. The hours of operation will be 6 – 10 a.m. and 4 – 8 p.m. Monday thru Friday and 8 a.m. – Noon on Saturday and 1-6 p.m. Sundays.
The new Fitness Center includes: Free weights, weight machines, stair machine, elliptical trainers, treadmills, stationary bicycles and televisions for viewing while working out.
Gym memberships can only be purchased at the Frank Brown Recreation Center, Monday-Friday, 8 a.m. – 5 p.m. Citizens living or working in Auburn can become a member for a one- time fee of $25. This includes an access card for entry into the Frank Brown Fitness Center and the Boykin Fitness Center. Access is not available for anyone under the age of 16; teen's ages 16 - 18 must be accompanied by a parent or legal guardian. If a patron is already a member at the Frank Brown Fitness Center then his/her membership and key card will work at Boykin as well. For more information, please contact 334-501-2930.
New Playgrounds now open at New and Old Duck Samford Parks
The playground renovations at New Duck Samford Park and Old Duck Samford Park are now complete and the new playgrounds are open to the public. Outdated playground equipment was removed in August at both ball field parks and replaced with new equipment, including a new turf surface placed under the playgrounds. The turf surface is ADA accessible for wheelchairs, walkers and canes. The playground equipment at the New Duck Park is partially covered, promotes more active play and is ideally suited for children 5 and older. The playground also has new benches. The playground equipment at Old Duck Samford Park is completely covered and caters to children 2 years and older. Both playgrounds have active components and are ADA accessible. The Old Duck Samford Baseball Fields are located at 1720 East University Drive and New Duck Samford Ball Fields are located at 335 Airport Road, for more information contact Auburn Parks and Recreation at 501-2930.
Monthly Market begins Tuesday, September 25
Join Auburn Parks and Recreation as we partner with our local growers and makers to host the Monthly Market on select Tuesdays of the month beginning in September 2018!
Visit the Harris Center from 4:30 - 6:30 p.m. to find the best produce, jams, jellies and goodies from the Auburn area! Vendors will be set up in the Harris Center Activity Room, lobby or outside (depending on weather).
Each month, check out the Facebook event group to see which vendors will be attending for market day.
Interested in becoming a vendor for the Monthly Market? Visit the following link for more information or to download an application:
https://www.auburnalabama.org/parks/programs/monthly-market/
2018 - 2019 Market Dates are as follows:
September 25, 2018
October 23, 2018
November 20, 2018
December 18, 2018
January 22, 2019
February 26, 2019
March 26, 2019
April 23, 2019
Details for the Monthly Market can be found at https://www.auburnalabama.org/parks/programs/monthly-market/.
John Jerome "Acing ALS" Tennis Benefit October 5
The John Jerome "Acing ALS" Tennis Benefit for finding a cure for ALS (Lou Gehrig's disease) will be held Friday, October 5 from 6-9 p.m. at the Yarbrough Tennis Center. Tennis players of all ages and levels are encouraged to participate in this tournament to "Ace ALS." Players age 10 and below will play tennis-related games and intermediate players ages 10-15 will play each other in doubles. Adults and advanced junior players will also play doubles.
Prizes will be given to those with the fastest serve in the different age categories. Snacks, drinks and pizza will be provided by the Auburn Community Tennis Association.
Tournament Chairman John Jerome suffers from ALS and is an advocate for finding a cure to this disease. He and his family have been part of Auburn's tennis community for more than 20 years.
Registration cost is $20 per player and can be completed at www.auburnalabama.org/tennis by clicking the "John Jerome Acing ALS Tennis Benefit" link. Donations may also be made at this link. All proceeds will go toward ALS research at the Emory ALS Clinic. For more information on ALS research being done at the Emory ALS Clinic, in Atlanta, GA.Corporate sponsorships are available for $150 per sponsorship, for more information on corporate sponsorships email John Jerome at johnjerome@charter.net.
One hundred percent of all proceeds will go directly to the Emory Clinic to fund research. For more information please email Bret Peterson at bpeterson@auburnalabama.org or call 334-501-2921.
Community Resource Fair Tuesday, September 25 Harris Center
Join Active Auburn on Tuesday, Sept. 25, for the Community Resources Fair from 5:30–7 p.m. at the Harris Center.
The Community Resources Fair will expose visitors to resources available to them in the Auburn area that can help with their mental and physical health and well-being. Vendors for this event are as follows:
Active Auburn / Parks and Recreation
Diabetes and Nutrition Center
EAMC Sleep Center
Jan Dempsey Community Arts Center
Rape Counselors of East Alabama
Unity Wellness Center
This list of vendors will be updated as new vendors are confirmed.
The Community Resources Fair is free and open to the public and will also be occurring during the September Monthly Market (4:30–6:30 p.m.). For more information, please visit activeauburn.org or join our Facebook event group.
Interested in being a vendor? Please email us at activeauburn@auburnalabama.org.
Active Auburn is a health and wellness campaign presented by the City of Auburn and sponsored by AARP. For more information about the campaign, visit activeauburn.org.
Call for Entries - 20th Annual Juried Art Exhibition
The Auburn Arts Association (AAA) is calling all artists for the 20th Annual Juried Art Exhibition. The exhibition will be on display Oct. 15 – Nov. 16 at the Jan Dempsey Community Arts Center.Artists currently residing or working in Lee County and surrounding areas are invited to submit two recent works of art in this exhibition. Professional, student and amateur artists 18 years or older are eligible to enter this competitive show. Works in any medium except photography can be submitted to the Arts Center now through October 9th.
A non-returnable fee of $25 must accompany the entry form and work. Make checks payable to the Auburn Arts Association.Entry forms are available at the Arts Center and J&M Bookstore. To download a form, visit www.auburnalabama.org/arts or www.auburnarts.org or download the application below.
20th Annual Juried Art ApplicationFor more information or to request a form, please call the Arts Center at 334-501-2963
Yarbrough Tennis Center (YTC) News
Yarbrough Tennis Center will close at Noon Saturday, September 15 due to the Auburn University home football game. Visit the link below for latest updates, court availability and upcoming clinics at the Yarbrough Tennis Center!https://www.auburnalabama.org/tennis/ytc-news/
Auburn Stride Walkers
The Auburn Parks and Recreation Department is offering a walking program, Auburn Stride Walkers, for citizens who are interested in walking various City walking trails as a group.
Walks will be held on Mondays, Wednesdays, and Fridays at 9:00 a.m. Participants can walk at their own pace and distance. The Auburn Stride Walkers is a great way to have fun, make friends, and walk your way into a healthier lifestyle. The program is open to all ages and is free to the public.
Upcoming Schedule for week of September 17
Sept. 17 Town Creek Park
Located on South Gay Street
Sept. 19 Hickory Dickory Park
1400 Hickory Ln. & N. Cedarbrook Dr. (neighborhood parking lot)
Sept. 21 Jule Collins Smith Museum
Located on South College Street
Sept. 24 Kiesel Park
Located off Chadwick Lane