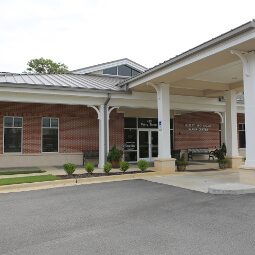 Harris Center
425 Perry St
Phone: (334) 501-2930
Hours:

M-F: 8AM-5PM

Ann Bergman
Public Relations Specialist
Phone: (334) 501-2936
Email: abergman@auburnalabama.org
LeisureLink is The City of Auburn's Parks and Recreation Weekly Newsletter
Week of April 23 - 29, 2018
Monthly Market- April 24
Don't miss out on the last Monthly Market of the season! Visit the Harris Center on Tuesday, April 24, from 4:30-6:30 p.m. to find the best produce, jams, jellies and bounty of Lee County! The new season will not reopen until September 2018, so residents are encouraged to come support local farmers and vendors and stock up on goodies while there is still time!
Auburn CityFest Juried Art Show & Preview Reception
The Auburn CityFest Committee invites local and regional artists to submit work to the 14th Annual Juried Art Show, held in conjunction with Auburn CityFest.
The Juried Art Show allows artists to showcase their talents in a variety of mediums, such as painting, works on paper, three-dimensional works (ceramics/sculpture), mixed-media, photography and jewelry.
The City of Auburn, Auburn Arts Association, Auburn-Opelika Tourism Bureau and The Cup and Saucer will host the Juried Art Preview Reception on Thursday, April 26, from 5:30–7:30 p.m. An annual tradition, the reception provides guests the opportunity to view the exhibition prior to Auburn CityFest, meet the talented artists behind the works and enjoy live entertainment and delicious food catered by The Cup and Saucer. The event is hosted at the beautiful Historic Nunn-Winston House at Kiesel Park. The Juried Art Preview Reception is free and open to the public.
All displayed works will be available for sale, and up to $1,200 in merit awards will be awarded. There will be two $250 Special Awards presented by the Auburn-Opelika Tourism Bureau as well as a $200 photography award. All award winners will be announced at the Juried Art Preview Reception on Thursday night.
18th Annual Auburn CityFest: Native Alabama- April 28
It's finally time for Auburn's largest FREE outdoor event, sponsored by MAX, Poarch Creek Indians and Alfa! Join Auburn Parks and Recreation for the 18th Annual CityFest on Saturday, April 28, from 9 a.m.-4 p.m. at Kiesel Park. This year's theme is "Native Alabama," which promises an engaging cultural experience! The headlining entertainment will be provided by The Medicine Tail Singers, a traveling drum group comprised of members from various Southeastern Native American tribe backgrounds. The Medicine Tail Singers will perform various Native American dances and songs. There will be other featured entertainment, special guests, children's activities and more than 100 arts and craft, food and nonprofit vendors to explore. This is a rain or shine event. For more information, visit auburncityfest.com.
.
The 2018 Auburn Parks and Recreation Summer Brochure available online and facilities
The 2018 Auburn Parks and Recreation Summer Brochure will be available online and at all Parks and Recreation facilities, the Auburn Public Library and City Hall on Monday, April 2.
Registration for 2018 summer programs begins Monday, May 7. You may register for summer programs in person at the Harris Center, 425 Perry St., Auburn, Alabama, beginning Monday, May 7. Go to auburnalabama.org/parks to view the summer brochure online. For additional information email Ann Bergman at abergman@auburnalabama.org or call (334) 501-2930.
First May Sundown Concert Series Town Creek Park Thursday, May 3
Come enjoy local and regional musicians perform at Town Creek Park every Thursday night from 6-7:30 p.m. throughout the month of May.
Bring the family, a picnic and a lawn chair to enjoy a free, relaxing evening of entertainment. Feel free to bring your pets along too, but please make sure they are on a leash.
The Sundown Concert Series begins with Alabama Avenue on Thursday, May 3, at 6 p.m.
Alabama Avenue began in the summer of 2005 in Lafayette, AL when their first gigs were private parties after the local Friday night football games. The band reformed in 2015 after taking a break for members to finish school, marry, and join the military.
Alabama Avenue is a party band from the East Alabama area playing everyone's favorite classic and southern rock with new and traditional country.
The band line-up for the 2018 Spring Sundown Concert Series is as follows:
• May 3- Alabama Avenue
• May 10- Established
• May 17- H20
• May 24- Graham Harper
• May 31- Shana Frasha with the No Comment Band
Join us every Thursday for a fun and free night of entertainment! For more information and to keep up with concert details, visit the City of Auburn's Facebook page at www.facebook.com/CityofAuburnAL.
S'more Fun With Mom Tickets available online
Tickets for for Lee County's annual mother and son adventure, S'more Fun with Mom are now available for online purchase. This special event is co-hosted by the Kreher Preserve and Nature Center and the City of Auburn Parks and Recreation Department. Tickets can be purchased exclusively at auburn.edu/preserve. The cost is $30 per mother/son duo and $10 for each additional son.The event is offered on two evenings: Thursday, May 10, and Friday, May 11, from 6-8 p.m. Evenings will include a hike, cookout, s'mores and storytelling. There is also a craft station available to create a keepsake with a 5 by 7 portrait to commemorate this special night. Rain dates for the event are Thursday, May 18, and Friday, May 19.The Kreher Preserve is located at 2222 N. College St. For additional information or questions, contact Jennifer Lolley at (334) 707-6512 or at preserve@auburn.edu.
Auburn Stride Walkers
The Auburn Parks and Recreation Department is offering a walking program, Auburn Stride Walkers, for citizens who are interested in walking various City walking trails as a group.
Walks will be held on Mondays, Wednesdays, and Fridays at 9:00 a.m. Participants can walk at their own pace and distance. The Auburn Stride Walkers is a great way to have fun, make friends, and walk your way into a healthier lifestyle. The program is open to all ages and is free to the public.
Week of April 23 - 30
April 23 Dean Road Recreation Center
Located at 307 South Dean Road
April 25 Yarbrough Tennis Center
Located on Richland Road across from Elementary School
April 27 Charlotte & Curtis Ward Bike Path
Located across from entrance to Chewacla State Park
April 30 Ogletree Shopping Center
(meet in the parking lot by the flower store)