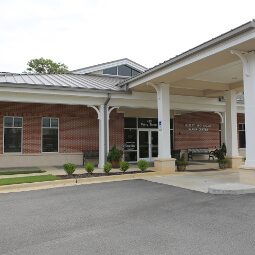 Harris Center
425 Perry St
Phone: (334) 501-2930
Hours:

M-F: 8AM-5PM

Ann Bergman
Public Relations Specialist
Phone: (334) 501-2936
Email: abergman@auburnalabama.org
LeisureLink is The City of Auburn's Parks and Recreation Weekly Newsletter
Week of Feb. 18-23, 2019
Arbor Day Tree Giveaway Feb. 23
The Auburn Tree Commission will host its annual Arbor Day Celebration on Saturday, Feb. 23, from 9 a.m. to noon at the Auburn Kroger on Dean Road, Publix at Moore's Mill and Publix at Cary Creek. Members of the Auburn Tree Commission will distribute redbud, nuttall oak and pignut hickory trees while supplies last at each location.
The Auburn Tree Commission is appointed by the Auburn City Council. The commission, which is a part of the National Arbor Day Foundation, advises the City on proper tree care and planting. In honor of the Auburn Tree Commission's efforts and the Arbor Day Celebration, Mayor Ron Anders has issued an Arbor Day Proclamation formally declaring Feb. 23 to be Arbor Day in the City of Auburn.
6th Annual Auburn-Opelika Empty Bowls Tickets
Tickets are now on sale for the 6th Annual Auburn-Opelika Empty Bowls event taking place Saturday, Feb. 23, at the Jan Dempsey Community Arts Center in Auburn.
Empty Bowls is a fundraiser for the Food Bank of East Alabama that is designed to raise awareness about those in our community suffering from food insecurities. Event attendees will select a handmade bowl created by local artists and fill it with soup donated from area restaurants. The bowl each patron selects is meant to be kept as a reminder of those who face hunger every day.
Tickets can be purchased for a $20 donation to the Food Bank of East Alabama. A limited number of tickets will be available. To purchase tickets, visit Dean Road Ceramics Studio, located at 307 S Dean Rd. in Auburn or Denson Drive Recreation Center, located at 1102 Denson Drive in Opelika.
For more information concerning the Dean Road Ceramics Studio or the 6th Annual Auburn-Opelika Empty Bowls Event, please contact Cari Cleckler, Art Education Specialist at ccleckler@auburnalabama.org.
Spring Program and Online Youth Track Registration Open
Online registration for Auburn Parks and Recreation's youth track program is now open! Training will be designed to teach participants the value of teamwork and prepare the team for the Alabama Recreation and Parks Association District V and state track meets. To register, visit auburnalabama.org/athletics/youth-sports/track/.
Registration for Auburn Parks and Recreation's spring programs is also open at the Harris Center. Available programs include art, dance, kickball, pickleball, tennis and more! Spring Brochures with complete program listings are available at all Auburn Parks and Recreation facilities, the Auburn Public Library and City Hall. Available programs can also be viewed online at auburnalabama.org/parks/Spring%20Brochure.pdf. All program registration except for tennis must be completed at the Harris Center. To register for tennis programs please visit auburnalabama.org/tennis.
Tickets on Sale for AACT's "The Lion, The Witch and the Wardrobe"
Tickets are now on sale for Auburn Area Community Theatre's performances of "The Lion, the Witch and the Wardrobe." Performances will be given at the Jan Dempsey Community Arts Center March 1, 2, 4, 7, 8 and 9. Tickets are $10 for adults and $8 for children, students and seniors. To purchase tickets visit auburnact.org or call 334-332-0881.
Swim Lesson Registration Begins March 4
Summer will be here soon and the Auburn City Pool will soon be open to the public. We have plenty of surprises in store for our patrons during the upcoming pool season at Samford Pool.
Our first big surprise involves swim lessons! According the National Recreation and Park Association, More than 9 in 10 Americans (95 percent) believe it is important for children to learn how to swim at an early age. This is why Auburn Parks and Recreation is offering a wide variety of swim lesson opportunities this year ONLY at Samford Pool. We will offer smaller class sizes for swim lessons so your children receive more attention one – on –one and the best swim lessons as possible.
We are also introducing a new class "Advanced Guppies" in our swim lesson curriculum. This class will be available for children ages 5 and 6 who have taken our Guppies class previously, but aren't quite yet ready to move up. Swim lessons are a great opportunity to get your child more comfortable in the water so they can swim safely and confidently!
Lastly, we have added two extra sessions, so everyone has the opportunity to participate in swim lessons this year!
Auburn City Pools swim lessons are available for student's ages 6 months through adulthood and will be held in six sessions this summer:
Lessons will be held in six sessions this summer:
Session I: May 13-23
Session II: May 28-31
Session III: June 3-13
Session IV: June 17-27
Session V: July 1-3
Session VI: July 8-18
Registration will begin Monday, March 4, at 8 a.m. at auburnalabama.org/parks/register. For more information about class times and dates, visit auburnalabama.org/aquatics.
2nd Annual Strategy Game Day
Auburn Parks and Recreation is teaming up with Game Time Hobbies to host a Strategy Game Day on Saturday, March 9, from 10 a.m.- 2 p.m. at Dean Road Recreation Center. We will be playing a variety of games, including role-playing, miniature, card and board games.
Whether you are an experienced gamer or have no gaming experience at all, it's sure to be a fun day! Admission is a pet food donation for Lee County Humane Society or a canned goods donation for the East Alabama Food Bank.
We will have volunteers on hand who would love to help introduce you to some awesome games such as Dungeons and Dragons and Star Wars board games. Don't miss this great opportunity to play games and help fight hunger in the community! #itstimetoplay
YTC News
To read the latest news from Yarbrough Tennis Center, visit auburnalabama.org/tennis/ytc-news/.
Auburn Stride Walkers
The Auburn Parks and Recreation Department is offering a walking program, Auburn Stride Walkers, for citizens who are interested in walking various City walking trails as a group.
Walks will be held on Mondays, Wednesdays, and Fridays at 9 a.m. Participants can walk at their own pace and distance. The Auburn Stride Walkers is a great way to have fun, make friends, and walk your way into a healthier lifestyle. The program is open to all ages and is free to the public.
Upcoming Schedule for Week of Feb. 18-25
Feb. 18 Ogletree Shopping Center
Meet in the parking lot by the flower store
Feb. 20 Yarbrough Tennis Center
Located on Richland across from elementary school
Feb. 22 Dean Road Recreation Center
Located at 307 S Dean Rd.
Feb. 25 Auburn Public Library
Located at 749 E Thach Ave.