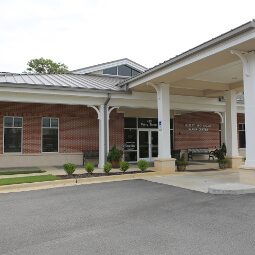 Harris Center
425 Perry St
Phone: (334) 501-2930
Hours:

M-F: 8AM-5PM

Ann Bergman
Public Relations Specialist
Phone: (334) 501-2936
Email: abergman@auburnalabama.org
LeisureLink is The City of Auburn's Parks and Recreation Weekly Newsletter
Week of December 10-16, 2018
Holiday Market Tuesday, December 18
Still looking for the perfect gift? Visit the Holiday Market at the Harris Center Tuesday, Dec. 18, from 4:30-6:30 p.m. to find something everyone will love! Market attendees will be able to select from the best jellies, jams, produce and other bounty in all of Lee County! Local farmers and vendors interested in participating in upcoming Monthly Markets can download an application at www.auburnalabama.org/parks. This event is FREE to the public.
Active Auburn accepting applications for the 2019 FitFest
Active Auburn is now accepting vendor applications for FitFest 2019: a Health, Fitness and Lifestyle Fair to be held on Saturday, Jan. 12, 2019, from 2 – 5 p.m. at Frank Brown Recreation Center.
FitFest 2019 grants the opportunity for local fitness and health studios, gyms and organizations to connect with Auburn area residents and showcase their products and services to the community.
In addition to tabling at the event, vendors have the option to offer a 10–20 minute pop-up class for event attendees to participate in. This allows participants to test out different studios and gyms that they have been interested in joining or classes they want to take, but still have questions about. PLEASE NOTE: Pop-up classes will be open to event participants ages 16 or older.
Applications are due by Friday, Jan. 4, at 5 p.m. and may submitted in one of three ways:
By email to Active Auburn at activeauburn@auburnalabama.org
By mail to: Active Auburn RE: FitFest 2019, 425 Perry St., Auburn AL, 36830
In-person at the Harris Center (425 Perry St.)
This event is free and open to the public. A schedule of pop-up classes and vendors will be published by Monday, Jan. 7. Details regarding this event can be found at activeauburn.org and auburnalabama.org/parks. A Facebook event group will be published by Friday, Dec. 21. Active Auburn is a health and wellness campaign presented by the City of Auburn and sponsored by AARP.
Daddy Daughter Date Night Tickets on sale now
Ticket sales for the 30th annual Daddy-Daughter Date Night are on sale now, exclusively online at auburnalabama.org/parks. Tickets are $35 per couple and $5 for each additional child. Auburn Parks and Recreation invites girls 12 and under to dress up and come out for an evening of fun with their dads at the Clarion Inn & Suites University Center. Attendees will be able to enjoy refreshments, dancing, pictures and memories—complete with door prizes and a dance contest at the end of the night!
2019 event dates are as follows:
Friday, Feb. 1: 6:30-9 p.m. Almost Full
Saturday, Feb. 2: 6:30-9 p.m. Full
Thursday, Feb. 7: 5:30-8 p.m.
Friday, Feb. 8: 6:30-9 p.m.
For more information and to purchase tickets visit auburnalabama.org/daddy-daughter-date-night. For more information contact Elizabeth Kaufman at (334) 501-2939.
Yarbrough Tennis Center (YTC) News
Check out all the latest news from Yarbrough Tennis Center. Visit auburnalabama.org/tennis/ for the latest information on events, clinics and league updates.
Auburn Stride Walkers
The Auburn Parks and Recreation Department is offering a walking program, Auburn Stride Walkers, for citizens who are interested in walking various City walking trails as a group.
Walks will be held on Mondays, Wednesdays, and Fridays at 9:00 a.m. Participants can walk at their own pace and distance. The Auburn Stride Walkers is a great way to have fun, make friends, and walk your way into a healthier lifestyle. The program is open to all ages and is free to the public.
Upcoming Schedule for week of December 10, 2018
Dec. 10 Jule Collins Smith Museum
Located on South College Street
Dec. 12 Charlotte & Curtis Ward Bike Path
Located across from entrance to Chewacla State Park
Dec. 14 Hickory Dickory Park
1400 Hickory Ln. & N. Cedarbrook Dr. (neighborhood parking lot)
Dec. 17 Dean Road Recreation Center
Located at 307 South Dean Road
Dec. 19 Kiesel Park
Located off Chadwick Lane
.