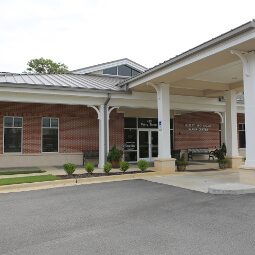 Harris Center
425 Perry St
Phone: (334) 501-2930
Hours:

M-F: 8AM-5PM

Ann Bergman
Public Relations Specialist
Phone: (334) 501-2936
Email: abergman@auburnalabama.org
LeisureLink: The City of Auburn's Parks and Recreation Weekly Newsletter
Week of May 20-26, 2019
Samford Pool Opens Saturday, May 25
Swim Lesson Registration Continues
Summer will be here soon and the Auburn City Pool will soon be open to the public. We have plenty of surprises in store for our patrons during the upcoming pool season at Samford Pool.
Our first big surprise involves swim lessons! According the National Recreation and Park Association, More than 9 in 10 Americans (95 percent) believe it is important for children to learn how to swim at an early age. This is why Auburn Parks and Recreation is offering a wide variety of swim lesson opportunities this year ONLY at Samford Pool. We will offer smaller class sizes for swim lessons so your children receive more attention one – on –one and the best swim lessons as possible.
We are also introducing a new class "Advanced Guppies" in our swim lesson curriculum. This class will be available for children ages 5 and 6 who have taken our Guppies class previously, but aren't quite yet ready to move up. Swim lessons are a great opportunity to get your child more comfortable in the water so they can swim safely and confidently!
Lastly, we have added two extra sessions, so everyone has the opportunity to participate in swim lessons this year!
Auburn City Pools swim lessons are available for students ages 6 months through adulthood and will be held in six sessions this summer:
Registration is open for the following sessions this summer:
Session III: June 3-13
Session IV: June 17-27
Session V: July 1-3
Session VI: July 8-18
To register, visit auburnalabama.org/parks/register. For more information about class times and dates, visit auburnalabama.org/aquatics.
YTC News
To read the latest news from Yarbrough Tennis Center, visit auburnalabama.org/tennis/ytc-news/.o read the latest news from Yarbrough Tennis Center, visit auburnalabama.org/tennis/ytc-news/.
Spring Sundown Concert Series Continues at Town Creek Park
Grab a lawn chair and enjoy an evening of fun and relaxation! The Spring Sundown Concert Series continues with The Dion Hawkins Band on Thursday May 23, at Town Creek Park from 6-7:30 p.m. There will be an inflatable and a Cybergame truck for children FREE for kids. A food vendor will also be on site with food options to purchase. The Spring Sundown Concert Series will continue every Thursday night in May at Town Creek Park from 6-7:30 p.m. The final concert in the series will be next week, May 30 with Open Skye performing. Concerts are FREE to the public. For more information, contact J Jones at jyjones@auburnalabama.org.
Summer Program Registration Continues
Make sure the kids don't get bored this summer with Auburn Parks and Recreation's summer programs and camps! Registration is available at the Harris Center. Available programs include aquatics, art, ceramics, dance, tennis and more! Brochures with all available summer program listings are available at all Auburn Parks and Recreation facilities, the Auburn Public Library and City Hall. Programs can also be viewed online at auburnalabama.org/parks/programs.
Auburn Stride Walkers
The Auburn Parks and Recreation Department is offering a walking program, Auburn Stride Walkers, for citizens who are interested in walking various City walking trails as a group.
Walks will be held on Mondays, Wednesdays, and Fridays at 9 a.m. Participants can walk at their own pace and distance. The Auburn Stride Walkers is a great way to have fun, make friends, and walk your way into a healthier lifestyle. The program is open to all ages and is free to the public.
Week of May 20-27
May 20 Town Creek Park Located on South Gay Street
May 22 Ogletree Shopping Center Meet in parking lot by the flower store
May 24 Yarbrough Tennis Center Located on Richland Road
May 27 HOLIDAY