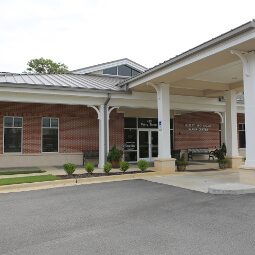 Harris Center
425 Perry St
Email:

[email protected]

Phone: (334) 501-2930
Hours:

M-F: 8AM-5PM

Ann Bergman
Public Relations Specialist
Phone: (334) 501-2936
Email:

[email protected]
LeisureLink: The City of Auburn's Parks and Recreation Weekly Newsletter
Week of November 23-29, 2020
Letters to Santa Mailboxes Harris Center & Boykin Community Center
The Auburn Parks and Recreation Department is excited to offer the 2nd annual Letters to Santa program. Children will have the opportunity to send letters to Santa at the North Pole beginning Monday, November 23rd. Letters can be dropped in the special mailboxes located at the Harris Center (425 Perry Street) and at the Boykin Community Center (400 Boykin Street). Santa will reply with a letter mailed to your home; make sure to include the child's name and a return address. All letters to Santa must be dropped in the mailboxes by Monday, December 14th to give Santa enough time to reply before Christmas. No postage necessary. This is a wonderful opportunity to create a magical moment with your child as they address their own letter to Santa himself!
For more information about the Letters to Santa program or Auburn Parks and Recreation, please visit our website at www.auburnalabama.org/parks or contact us at 334-501-2930.
Parks and Recreation Thanksgiving Week Hours
All Parks and Recreation facilities will be closed Thursday and Friday, Nov. 26 and 27. The Yarbrough Tennis Center will close on Wednesday, Nov. 24, at 2 p.m. and will remain closed Thursday and Friday. The center will open for regular hours on Saturday and Sunday. Frank Brown Recreation Center will also open for regular hours on Saturday and Sunday. All Parks and Recreation parks, playgrounds and cemeteries will remain open sunup to sundown.
Winter program registration going on now
Winter program registration began Mon., Nov. 2 in person at the Harris Center, 425 Perry Street. Online registration is available for some programs, you may also mail in your application through the post office. Registration at the Harris Center will conclude Thursday, November 25 at 5 p.m., after that date the participant must register with the instructor. Go to auburnalabama.org/parks/brochure to view the winter brochure online. For additional information email Ann Bergman at [email protected] or call 334-501-2930.
Auburn Area Community Theatre to present A Christmas Carol
The holiday season is upon us and Auburn Area Community Theatre (AACT) will present "A Christmas Carol," an on-stage live radio play at the Jan Dempsey Community Arts Center (JDCAC). The production will portray actors of a 1940's radio station bringing to life all the characters in a live radio performance of Dicken's "A Christmas Carol." Join the cast as they bring dozens of characters to the stage, as the familiar story unfolds: three ghosts take Ebenezer Scrooge on a thrilling journey to teach him the true meaning of Christmas. The holiday classic, as a live 1940s radio broadcast, is complete with vintage commercials, musical underscoring, a live sound effects creating the bells, doors, ghostly chains, thunder effects, and more!
Performances are scheduled for December 10th, 11th, and 12th at 7 p.m., and December 13th at 2 p.m. AACT is committed to the safety of our AACT family, patrons, and community and all recommended health and safety protocols will be followed, including distanced seating and required masks.
For more information about these events or to purchase tickets, please visit www.auburnact.org. Email [email protected] for group rate information.
Jingle Jog registration
The 2020 Jingle Jog is set for Sat., Dec. 19 7 a.m. at Toomer's Corner. Join Active Auburn for the merriest race of them all. Wear your ugliest holiday sweater to add to the fun.
Registration for the Jingle Jog 5k is now open to register please visit https://www.auburnalabama.org/parks/register/.
A schedule of registration fees is as follows:
Jingle Jog 5k:
Early Bird Registration: September 21 – November 23: $20
Registration: November 24 – December 14: $25
In order to be guaranteed a t-shirt, participants must register by Monday, November 30. A limited number of t-shirts will be available to late registrants on a first-come, first serve basis at packet pick up.
The Jingle Jog 5k will start in waves between 7:00 a.m. - 9:00 a.m.. When registering, please enter your estimated 5k time. Your start time will be emailed to you on December 17th. There will be NO day-of race registration. The Jingle Jog 5k will have awards for 1st – 3rd place in the following categories for men and women: Overall, 14 & Under, 15-19, 20-29, 30-39, 40-49, 50-59, 60+. Times will be posted and medals will be mailed out on Monday, December 21st. Routes for the 5k will be published at activeauburn.org, auburnalabama.org/parks and on the race website (https://runsignup.com/Race/AL/Auburn/activeauburnjinglejog5k). Packet pick-up for the races will be on Thursday, December 17th and Friday, December 18th from 8 a.m. – 6 p.m. at the Harris Center. YOU MUST PICK UP YOUR RACE PACKET PRIOR TO THE RACE.
*COVID-19 note: You will be required to sign a COVID – 19 waiver prior to race day. There will be NO day of race registration. There will be NO day of packet pick-up. All packets must be picked up prior to the race. Mask required prior to race start. 6ft between each runner will be marked for starting waves. No race day award ceremony. No spectators allowed along finisher chute.
For more information visit https://www.auburnalabama.org/parks/programs/active-auburn/ or contact Sarah Cook at [email protected].
Work Begins on new Dinius Park
Located at 1435 E. Glenn Ave. between Dean and University roads, the park will provide a slice of the outdoors in the middle of the city. Tree clearing will be minimized, leaving as many trees as possible on the property to preserve the property's woods, which block any view of the street and contribute to the park's secluded, peaceful atmosphere. Dinius Park will feature about a half mile of walking trails that weave through the woods and around a small pond. Two dog parks — one for small dogs and one for large — will be constructed on the property.
A restroom building and parking lot will finish out the first phase of the park. In a future phase, a nature playground and pavilion area are planned as well as a dock and overlook areas near the property's pond. The nature playground will promote creative play and use materials like wood, rocks, berms and purchased components.
The property was donated by Sarah (Sally) and Robert Dinius in 2013. The Dinius family also donated funding for the park, which will be used to complete its first phase. The passive park to be enjoyed by the citizens of Auburn will be a culmination of the dreams they had for the land.
Dinius Park is part of the Parks, Recreation and Cultural Master Plan that was adopted by the Auburn City Council in May 2018. This is the third project under construction since the plan's adoption. Please note, intermittent lane closures are expected on East Glenn Avenue during the project. Motorists should be careful when traveling in the area.
Yarbrough Tennis Center Updates
Ladies, do you want to play some fun doubles? Sarah Hill is helping to connect ladies that just want to play some doubles and have a good time. Send Sarah an email at [email protected] and she will help find you an opportunity to play some doubles.
Our USTA Local League Coordinator is offering a fun Flex League to get everyone back out on the courts with no pressure to win or lose, just to knock the rust off, catch up with old friends, meet new players and most importantly, have fun. The men will play on Tuesday nights at 6:30pm and the ladies will play on Thursday nights at 6:30pm. If there is an overflow of men or ladies, we'll look at adding Wednesday nights as a potential night to play. The hope is to start play by the end of September and we'll go for 5 or 6 weeks. The format will be one or two singles lines and multiple doubles lines. You'll need a USTA membership to play in this league. Win or lose, your USTA rating won't be affected from playing matches in this league. If you are interested in this League contact the LLC, Kevin Fichtner at [email protected] or text his cell phone, 334-538-6526 .
New ball machine for rent at YTC. Rent the machine for $10 an hour. Members may reserve the ball machine in advance. For more information contact YTC 501-2920 or email [email protected].
No Auburn Stride Walkers until further notice