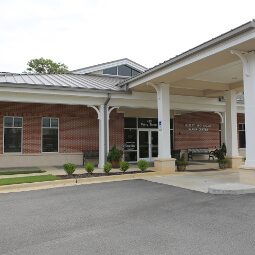 Harris Center
425 Perry St
Phone: (334) 501-2930
Hours:

M-F: 8AM-5PM

Ann Bergman
Public Relations Specialist
Phone: (334) 501-2936
Email: abergman@auburnalabama.org
LeisureLink is The City of Auburn's Parks and Recreation Weekly Newsletter
Week of July 16-20, 2018
Online Registration for Fall Youth Sports Now Open
Online registration is now open for Fall Youth Sports. Youth Sports allow children to learn the value of teamwork and stay active while having fun! Available sports include flag and tackle football, cheerleading, baseball, softball and soccer. Registration must be completed online at www.auburnalabama.org/athletics/youth-sports/. For more information, please contact Houston Manning at hmanning@auburnalabama.org.
July Friday Night Splash
End the week with a splash! Join the Aquatics Staff for the July Friday Night Splash on July 20 from 6-8 p.m. at Samford Pool. This night will feature music, games, a cookout and fun while enjoying time at the pool! Admission is $2 or FREE with a Splash Pass or prior admission to the pool earlier that day.(Please get a hand stamp before leaving.) For more information, please visit www.auburnalabama.org/aquatics.
Summer Sip Series: Paper Marbling Workshop
Enjoy one last sip of summer at the Paper Marbling Workshop Friday, July 27, at the Jan Dempsey Community Arts Center from 5:30-7:30 p.m.! Artsy individuals age 21 years and older are invited attend specially designed, hands-on workshops that will help them create masterpieces to enjoy for years to come. Bring the family, a friend or special someone to sip a BYOB beverage and enjoy spending quality creative time together. Participants must provide a valid ID to confirm age when the class meets. The cost for this night's session is $25 per participant, payable to the instructor. For more information please contact Cari Cleckler at ccleckler@auburnalabama.org.
2018 Fall Brochure now Available Online and at All Parks and Recreation Facilities
The Fall 2018 brochure is now available online and printed versions are available at Parks and Recreation facilities, the Auburn Public Library and Auburn City Hall. Auburn Parks and Recreation offers a variety of programs for all ages and interests including Back-to-School programs, athletics, art and more. Registration for 2018 Fall Programs will begin Monday, August 6, at the Harris Center, located at 425 Perry St. For more information or to view the brochure online, please visit https://www.auburnalabama.org/parks/programs/2018%20Fall%20Parks%20and%20Recreation%20Brochure%20Final.pdf.
Auburn Stride Walkers
The Auburn Parks and Recreation Department is offering a walking program, Auburn Stride Walkers, for citizens who are interested in walking various City walking trails as a group.
Walks will be held on Mondays, Wednesdays, and Fridays at 9:00 a.m. Participants can walk at their own pace and distance. The Auburn Stride Walkers is a great way to have fun, make friends, and walk your way into a healthier lifestyle. The program is open to all ages and is free to the public.
Upcoming Schedule for week of July 16-23
Monday, July 16- Hickory Dickory Park
1400 Hickory Lane and N Cedarbrook Drive (neighborhood parking lot)
Wednesday, July 18- Dean Road Recreation Center
Located at 307 S Dean Rd
Friday, July 20- Kiesel Park
Located off Chadwick Lane
Monday, July 23 Town Creek Park
Located on S Gay Street