Public Safety
161 N Ross St
Email: webpubsfty@auburnalabama.org
Phone: (334) 501-3110
Hours:

M-F: 8AM-5PM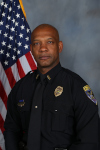 Clarence Stewart, IV
LIEUTENANT-ADMINISTRATION
Phone: (334) 501-7335
Email: cstewart@auburnalabama.org
Division Information
The Communications Division is staffed with three Communications Officers at all times. These on-duty personnel are responsible for receiving calls for service and relaying information and instructions for police, fire, medical, and all other emergency services.
The Communications Division has 12 full-time personnel and six part-time or student personnel. Communications Officers are responsible for answering multiple telephone lines, including emergency 911, non-emergency, and direct ring down lines to each fire station and to the Emergency Medical Service at the hospital. During the course of their duties, Communications Officers also monitor and respond to emergency service personnel on multiple radio frequencies.
When providing a service such as emergency communications, it is essential to stay abreast of changing technology and ensure the best quality of service is being received. When an emergency call is received, it is crucial that a well-trained Communications Officer answers the request in order to provide the needed assistance without delay. The City of Auburn Communications Division works hard to meet both of these measures with great pride and distinction.
Charge
The Communications Division, under the direction of the Communications Administrator, is responsible for receiving calls for service and relaying any needed information to police, fire, and medical providers. The Communications Division uses the latest computerized technology including Enhanced 911, Phase 2 911 and mapping data in the provision of these services. The Communications Division's area of responsibility includes the City of Auburn, Auburn University campus, and the Auburn Police jurisdiction. The Communications Division also supports the Auburn community by hosting 911 Center tours and public speaking engagements.
Mission
The Communications Division is committed to providing accurate and reliable response to those who are in need of assistance. The division's mission is accomplished with a trained and knowledgeable staff that utilizes state-of-the art radio and telephone equipment designed specifically for Public Safety use. The Communications Division takes a progressive stance on providing the best possible service to those in need.