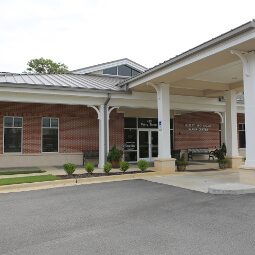 Harris Center
425 Perry St
Phone: (334) 501-2930
Hours:

M-F: 8AM-5PM

Gabby Meredith
Community Programs Coord
Phone: (334) 501-2946
Email: gmeredith@auburnalabama.org
Please register in advance for events at the Harris Center Monday through Friday 8am - 5pm. Fall registration begins Monday, August 7th. The first two weeks of registration are reserved for Auburn residents.
Movie Night at the Harris Center
Nothing like enjoying food and a good flick together! Come join us for a movie and dinner on select Thursday nights this fall. More movie suggestions welcome! $5 (includes dinner). Payable to the AAB.
September 21 • Going In Style
October 5 • Gifted
November 16 • The Zookeeper's Wife
Age: 50+ Day: Thursday Dates: 9/21, 10/5, 11/16 Time: 5:30 - 8 p.m. Location: Harris Center
Senior Spelling Bee
It's back to school for the kids, but they're not the only ones being put to the test! If you're a wiz at Scrabble and crosswords then come show off your smarts at our first ever Senior Spelling Bee! We promise not to give you words like bivouacking and Ghibelline which stumped the first and second place winners at the National Senior Spelling Bee last year. Just like everything else, this is all in good fun! Lunch will be provided and prizes awarded. $5 to cover the cost of lunch. Please register by Friday, September 22nd at 5pm.
Age: 50+ Day: Wednesday Dates: 9/27 Time: 11:30am - 2pm Location: Harris Center
Halloween Hoopla and Costume Contest
Who says dressing up for Halloween is only for the kids? Break out your wigs, witch hats and dance moves and get in on the fun at our Halloween Dance and Costume Contest! Prizes will be awarded for the best costume and dinner is provided. $5 to cover the cost of dinner. Payable to AAB. Please register by Friday, October 13th at 5 p.m.
Age: 50+ Day: Wednesday Dates: 10/18 Time: 6 - 9pm Location: Harris Center
"Family" Feud
Family Feud is an American television game show, currently hosted by Steve Harvey, where two families compete to name the most popular responses to survey questions in order to win cash and prizes. In our version we will draw to see who will be our team (family) and compete to see who will win some exciting gift cards (sorry, no cash or cars awarded here). Join in the fun for our first ever "Family" Feud! $5 to cover the cost of dinner. Please register by Monday, November 6th at 5 p.m.
Age: 50+ Day: Wednesday Dates: 11/8 Time: 6 - 9pm Location: Harris Center