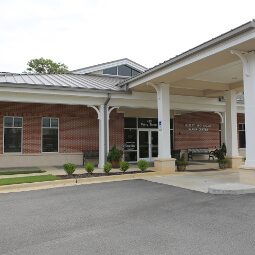 Harris Center
425 Perry St
Phone: (334) 501-2930
Hours:

M-F: 8AM-5PM

Gabby Meredith
Community Programs Coord
Phone: (334) 501-2946
Email: gmeredith@auburnalabama.org
Please register in advance for events at the Harris Center Monday through Friday 8am - 5pm. Fall registration begins Monday, August 7th. The first two weeks of registration are reserved for Auburn residents.
Movie Night at the Harris Center
Nothing like enjoying food and a good flick together! Come join us for a movie and dinner on select Thursday nights this fall. More movie suggestions welcome! $5 (includes dinner). Payable to the AAB.
March 15 • Victoria & Abdul
April 5 • Wonder
May 24 • Just Getting Started
Age: 50+ Day: Thursday Dates: 3/15, 4/5, 5/24 Time: 5:30 - 8 p.m. Location: Harris Center
Fit as a Fiddle: A 50+ and Special Populations Health Fair
The Fit as a Fiddle 50+ and Special Populations Health Fair will take place on Saturday, March 3, 2018 from 9 a.m. - 1 p.m. at the Dean Road Recreation Center. For the first time, this FREE event will serve the combined needs and interests of both the 50+ and therapeutic populations. Members of the community will have an opportunity to visit with doctors, fitness experts, senior care services, therapeutic program representatives, volunteer organizations, and other businesses offering products and services tailor made for them. No registration required. FREE to the public.
Age: 50+ Day: Saturday Dates: 3/3 Time: 9am - 1pm Location: Dean Road Recreation Center
Easter Egg Hunt and Lunch
Who says kids get to have all the fun? Come out for the 50+ Easter egg hunt and lunch! Gather for fellowship and a good meal before searching high and low for goody-filled eggs all over the Harris Center. Leave no stone, leaf or chair unturned in order to find the most eggs and win a multitude of prizes! $5 (includes lunch). Payable to the AAB. Register by Tuesday, March 20th at 5pm.
Age: 50+ Day: Friday Dates: 3/23 Time: 12 - 2pm Location: Harris Center
Senior Care Spa Party
A day at the spa can greatly benefit a senior citizen's physical health and wellbeing as well as improve their overall mood; however, senior citizens tend to have more issues and restrictions than the younger generation. Spa treatments that focus on basic maintenance to pain relief, stress management and relaxation are ideal for elderly spa-goers, who may not be up to the rigors of certain massages. Join us for a group spa session that will focus on anxiety and stress relief as well as include a hand massage. Light refreshments will be provided. Limited to 20 participants. $5 per person. Payable to AAB. Register by Tuesday, May 1st at 5pm.
Age: 50+ Day: Friday Dates: 5/4 Time: 10am - 12pm Location: Harris Center