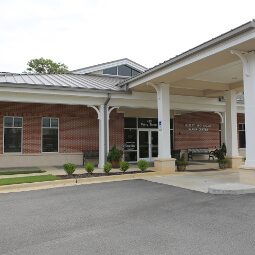 Harris Center
425 Perry St
Email:

[email protected]

Phone: (334) 501-2930
Hours:

M-F: 8AM-5PM

Sarah Cook
Community Programs Coordinator
Phone: (334) 501-2948
Email:

[email protected]
Seated Zumba Gold
Zumba movements are designed to mimic many typical Latin dance styles like salsa, rumba, and cumbia. Although traditionally many of these dances require use of your entire body, they can easily be adapted for people with mobility challenges. Many movements can be done with the upper body from a seated position in a wheelchair. Because so many different styles of music are usually incorporated into typical Zumba classes, participants join into the motions they feel most comfortable with. This class is a great way to strengthen the upper body as well as the lower extremities such as ankles and feet (if able). The class can be taken from your own wheelchair or from a regular chair. FREE to the public.
Mondays • 6/6 - 8/29 • 11:00 - 11:30 a.m. • Harris Center
Wednesdays • 6/8 - 8/31 • 9:30 - 10:00 a.m. • Harris Center
Contact: Gabby Filgo • (334) 501-2946 • [email protected]
Zumba Gold
Zumba Gold was designed for the older, active adult, a person who hasn't been exercising in a long time or individuals who may be limited physically. The biggest difference between Zumba Gold and Zumba basic is that Zumba Gold is done at a much lower intensity. It's just as much fun, just not as fast! Zumba Gold utilizes the same great Latin styles of music and dance that are used in the Zumba basic program, including the Salsa, Cha-Cha, Rock 'n Roll and Merengue. The Zumba Gold program strives to improve balance, strength, flexibility and most importantly, the heart. When you take the Zumba Gold class, be sure to wear comfortable workout clothing, take water and a towel, along with a "ready to party" attitude! FREE to the public.
Mondays • 6/6 - 8/29 • 10-11 a.m. • Harris Center
Wednesdays • 6/8 - 8/31 • 8:30 - 9:30 a.m. • Harris Center
Contact: Gabby Filgo • (334) 501-2946 • [email protected]
Silver Sneakers With Sarah
Move to music and have fun while exercising to increase muscle strength, range of movement, and activities for daily living. Hand-held weights, bands, and a ball are used for resistance. A chair is used for seated exercises and standing support. Non-Silver Sneaker Members will have to pay $5 to instructor first day of class. *COVID-19 Note: Class will take place in a large room with participants spaced 6 feet apart. Due to COVID-19 restrictions, this class is limited to no more than 10 participants. Those with underlying health conditions are discouraged from attending. FREE with Silver Sneakers membership.
Fridays • 6/10 - 8/19 • 9 - 9:40 a.m. • Harris Center
Contact: Sarah Cook • (334)501-2948 • [email protected]
Yin Yoga for Health and Happiness
Yin Yoga is a little different than the "typical" yoga class. It is a more passive yoga class where we learn to relax our muscles in order to improve the health of our joints, ligaments, fascia, and all other connective tissues that normally are not exercised in traditional exercise. Please let the instructor know of any injuries or concerns as she may need to modify a pose to meet your specific needs. Yin Yoga is recommended highly if you are over the age of 35 as it helps to keep the connective tissues, joint, and other aspects of the body in proper alignment and good health as we age. Yin also teaches breathing techniques that help improve mood, sleep, and mobility. This is an all levels class from beginners to advanced. Participants will need to provide a mat, towel or small lap blanket, yoga strap and possibly a yoga bolster. Class size is limited to 15 participants. COVID-19 guidelines will be practiced. Class changes will be announced at the discretion of the instructor. $5/class. Payable to INST each class attending.
Wednesdays • 6/1 - 8/31 • 9 – 10 a.m. • Frank Brown Recreational Center
Contact: Tammy Hollis • (334) 703-0168 • [email protected]