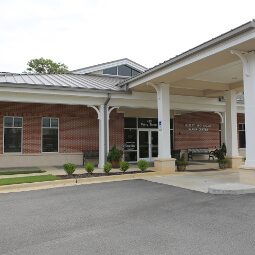 Harris Center
425 Perry St
Email:

[email protected]

Phone: (334) 501-2930
Hours:

M-F: 8AM-5PM

Sarah Cook
Community Programs Coordinator
Phone: (334) 501-2948
Email:

[email protected]
JUNE 14TH: SOUTHERN ENVIRONMENTAL CENTER, BIRMINGHAM, AL - $15
The Southern Environmental Center (SEC) is the largest educational facility of its kind in Alabama, dedicated to showing individuals how they can protect and improve their local environments. In addition to its award-winning Interactive Museum and the Hugh Kaul EcoScape garden on the campus of Birmingham-Southern College, the SEC is also active in the community. In April of 2018, the SEC launched the Alabama GeoDome, a 46-seat interactive 4K theatre designed to showcase Alabama's natural wonders. It's an adaptive reuse of the Meyer Planetarium at BSC, once an integral part of Birmingham's fabric, and will be a tool for introducing schoolchildren and community organizations to ecological concepts. As part of the field trip we will be visiting Interactive Museum/EcoArt session/EcoScape Garden tour and the Geodome. THERE WILL BE WALKING INVOLVED.
Tuesday • 6/14 • 8:00 a.m. - 4:00 p.m.
Contact: Sarah Cook • (334) 501-2948 • [email protected]
JUNE 24TH: THE COLOR PURPLE AT THE SPRINGER OPERA HOUSE, COLUMBUS, GA - $40
Enjoy The Color Purple at Georgia's Historic State Theatre, The Spring Opera House. This glorious musical adaption of Alice Walker's Pulitzer Prize-winning novel spotlights Celie, a young woman whose personal awakening over the course of 40 years forms the arc of an epic story. With a joyous Tony Award-winning musical score featuring jazz, ragtime, gospel, African music and blues, The Color Purple is a story of hope and healing power of love. Produced on Broadway by Oprah Winfrey and Quincy Jones, The Color Purple is a triumphant theatrical treasure. Please bring extra money for dinner before the show.
Friday • 6/24 • 3:00 p.m. - 10:00 p.m.
Contact: Sarah Cook • (334) 501-2948 • [email protected]
JULY 12TH: 2022 WORLD GAMES AEROBIC AND RHYTHMIC GYMNASTIC, BIRMINGHAM, AL -$40
The World Games 2022 will showcase a New Generation of Global Sports. The World Games 2022 will be the eleventh World Games, a major international multi-sport event, meant for sports, or disciplines or events within a sport, that were not contested in the Olympic Games.
Tuesday • 7/12 • 7:30 a.m. - 4:00 p.m.
Contact: Sarah Cook • (334) 501-2948 • [email protected]
AUGUST 1ST: DESOTO CAVERNS TOUR, CHILDERSBURG, AL - $45
DeSoto Caverns is a series of caves and a tourist attraction located in Childersburg, Talladega County, Alabama. Located in the foothills of the Appalachian Mountains, it is touted as "Alabama's Big Cave. This trip will include a guided tour that explores thousands of years of history. The expert team will explain the scientific processes involved in the creation of the caverns and its many unique formations. You will also get the opportunity to do a variety of attractions at the park. This includes lunch.
Monday • 8/1 • 7:30 a.m. - 3:00 p.m.
Contact: Sarah Cook • (334) 501-2948 • [email protected]
AUGUST 26TH: THE SCOTT & ZELDA FITZGERALD MUSEUM TOUR, MONTGOMERY, AL - $10
The Scott and Zelda Fitzgerald Museum is located in the historic Old Cloverdale Neighborhood in Montgomery, Alabama, and is the only museum dedicated to the lives and legacies of F. Scott & Zelda Fitzgerald in the world. The Fitzgeralds lived here from 1931 until 1932, writing portions of their respective novels, Save Me The Waltz and Tender Is The Night during their time in Montgomery.
Friday • 8/26 • 9:00 a.m. - 3:00 p.m.
Contact: Sarah Cook • (334) 501-2948 • [email protected]