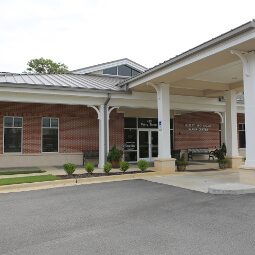 Harris Center
425 Perry St
Phone: (334) 501-2930
Hours:

M-F: 8AM-5PM

Gabby Meredith
Community Programs Coord
Phone: (334) 501-2946
Email: gmeredith@auburnalabama.org
Please register in advance for field trips at the Harris Center Monday through Friday 8am - 5pm. Fall registration begins Monday, August 7th. The first two weeks of registration are reserved for Auburn residents.
March 8th: Mississippi Slim & the Deadwood Saloon, Southern Broadway Dinner Theater, Enterprise, AL
Southern Broadway Dinner Theater is a jewel in south Alabama's Wiregrass region. Productions are held in the beautiful historic Hildreth Brothers building, a unique venue with special charm. Every meal served is a perfect accompaniment to the production and presented in a friendly family style. Playwright and owner Lydia Dillingham offers unique and original plays that are fun for everyone! To go along with this old western tale, our three-course meal will include wagon trail corn chowder and fritters, Texas style beef brisket, garlic Mashed potatoes with gravy, parmesan crusted green beans with bacon and campfire s'mores skillet pie. The cost of the trip includes transportation, admission and dinner. $40. Payable to AAB.
Age: 50+ Day: Thursday Date: 3/8 Time: 3:45 - 11:30pm Location: Harris Center
March 16th: Pioneer Museum of Alabama, Troy, AL
The Pike Pioneer Museum was established in 1969 and opened its doors in 1971 through the dedication, leadership, and inspiration of Curren Farmer, a native of Virginia but a resident of Troy, AL since childhood. Mr. Farmer conceived the idea of the Museum one day while driving along a stretch of road. In a large field he saw some old farming equipment, rusted from years of exposure from the elements and neglect. He noted, "Someone should save those." His motivation to steward such rural life and agri-heritage was born. Our day will consist of a guided tour of the main museum building, which is home to over 18,000 artifacts dating form prehistoric Native Americans through the mid-1900s. We will then get to visit our demonstration cabin, where we will learn about daily pioneer life and get to sample cornbread and sausage cooked in a cast iron skillet. Afterward, we will have an opportunity to walk the museum grounds and explore the cabins and other structures. The cost of the trip includes admission and transportation. Please bring extra money for lunch. $15. Payable to AAB.
Age: 50+ Day: Friday Date: 3/16 Time: 7:45am - 5pm Location: Harris Center
April 6th: Alabama Wildlife Federation Golden Expeditions Program, Millbrook, AL
The NaturePlex at the Alabama Wildlife Federation is a 23,000 square foot heated and cooled structural facility designed to fit into the natural surroundings, ensuring the beauty of the Lanark property is not compromised. It serves as the official and permanent Welcome and Education Center of the Alabama Nature Center and fulfills the final structural element of the AWF Board's vision for a world-class outdoor education center in Alabama. During our Golden Expedition, we will enjoy a one-hour nature-themed movie, a session on native plants with the "gardening guru" and a walk-through educational tour of the Discovery Hall. The cost of the trip includes transportation and admission. Please bring extra money for lunch. $10. Payable to AAB.
Age: 50+ Day: Friday Date: 4/6 Time: 9:30 a.m. - 4:30 p.m. Location: Harris Center
April 19th: Serenbe Farms Tour and Serenbe Playhouse Experience, Chattahoochee Hills, GA
The vision for the community of Serenbe was born in an effort to protect the beautiful rural land just outside of Atlanta known as Chattahoochee Hill Country. The first house at Serenbe was built in 2004 and today the community is home to over 400 residents. Each of Serenbe's four hamlets have complementary commercial centers focused on the elements of a well-lived life: arts for inspiration, agriculture for nourishment, health for wellbeing and education for awareness. Fresh food is another of Serenbe's natural assets, with a 25-acre organic farm, seasonal Saturday Farmer's Market, thriving CSA program and edible landscaping, including blueberry bushes along paths and sidewalks. Year-round cultural events include outdoor theater from Serenbe Playhouse, culinary workshops and festivals, music events, films and lectures, boutique shopping, art galleries, a spa and trail riding, plus a robust Artist in Residence program featuring dinners and talks. On this trip, we will immerse ourselves in the Serenbe experience with a farm tour where we will learn about overall farming practices and where we market our produce, equipment and cultivation, composting, cover cropping and crop rotation, plant families and seed germination and pastured poultry. After lunch, we will enjoy a performance of Robin Hood at the outdoor theatre company known as Serenbe Playhouse. This trip will include a lot of walking including a short uphill hike to get to the performance area. Unfortunately, this trip is not handicapped accessible. The cost of this trip includes transportation, tour and performance. Please bring extra money for lunch. $35. Payable to AAB.
Age: 50+ Day: Thursday Date: 4/19 Time: 7:15 am - 4 pm Location: Harris Center
May 2nd: Jim Scott's Garden on Lake Martin, Dadeville, AL
On the banks of Central Alabama's Lake Martin rests Jim Scott's garden and it's like none you've ever experienced. His 12-year creation is a labyrinth of intersecting trails, meandering streams, hideaways, and surprises. And while he isn't a landscape architect, he could teach such a professional a thing or two. Each waterfall, wildflower, and moss-shawled boulder looks like it's been nestled here since God made Earth. Attendees should wear good walking shoes. Unfortunately, this garden is NOT handicapped accessible. Cost of the trip includes the tour and transportation. Please bring extra money for lunch. $5. Payable to the AAB.
Age: 50+ Day: Wednesday Date: 5/2 Time: 9am - 2pm Location: Harris Center
May 22nd: Blue Heron Adventure Zip Lining, Columbus, GA
Take flight on the Blue Heron Adventure in Columbus, Georgia! Crossing the Chattahoochee River, experience the only dual-zip line that connects two states reaching speeds up to 40mph. The first flight on the Blue Heron is a gravity defying dual-zip totaling 1,200 ft. This zip not only connects Georgia and Alabama, but it will have your feet dangling 100 ft. over the Columbus, Georgia Whitewater course. Watch out! Rafters will be floating through the famous CutBait rapid below! The final zip will have thrill seekers gliding along the riverside of Phenix City, Alabama for their final dual, 400 ft. zip. Individuals must weigh no more than 250lbs to participate. Please wear closed toed shoes that will not slip off and athletic/comfortable clothing. Cost of the trip includes transportation and zip lining. Please bring extra money for lunch. $35. Payable to the AAB.
Age: 50+ Day: Tuesday Date: 5/22 Time: 9am - 2pm Location: Harris Center