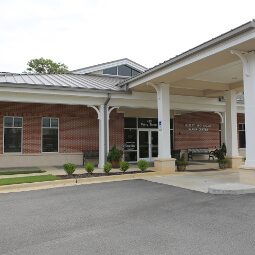 Harris Center
425 Perry St
Phone: (334) 501-2930
Hours:

M-F: 8AM-5PM

Ann Bergman
Public Relations Specialist
Phone: (334) 501-2936
Email: abergman@auburnalabama.org
Auburn Parks and Recreation hosts several options for outdoor movies throughout the year.
Fright Nights Series at the Arboretum
Something wicked this way comes...
Fright Nights at the Arboretum is back for our 2018 season! Join us on Friday nights in October for the Fright Nights Movie Series, with headlining films by Alfred Hitchcock! From music, kid's activities and an evening of spooky movies to get you in the mood for Halloween, there's plenty for everyone! A screening schedule will be published by September 14, 2018.
October 5, 2018
6:30 p.m. - TBD
7 p.m. - "Vertigo" (PG, 1958)

October 12, 2018
6:30 p.m. - "Halloween is Grinch Night"
7 p.m. - "Psycho" (R, 1960)
9:15 p.m. - TBD

October 19, 2018
6:30 p.m. - TBD
7 p.m. - "Rear Window" (PG, 1954)

October 26, 2018
6:30 p.m. - "It's the Great Pumpkin Charlie Brown"
7 p.m. - "The Birds" (PG-13, 1963)
9:15 p.m. - "The Exorcist" (R, 1973)
Gates open and activities begin at 5:30 p.m. A kid-friendly Halloween short film will be shown at 6:30 p.m., followed by our headlining Hitchcock film at 7 p.m. On nights when a double feature is shown, the second film will begin by 9:15 p.m. (select Fridays).
Patrons are encouraged to bring blankets, chairs and picnic dinners to enjoy the movies. Parking is available near the entrances on three sides: along Lem Morrison and the Poultry Science parking lot, along Garden Drive and in the Arboretum parking lot off Garden Drive. Patrons are encouraged to carpool or walk. This event is FREE and open to the public.
National Parks and Recreation Month Movie Madness Tournament and End-of-Summer Movie
For the second year in a row, Auburn Parks and Recreation will be celebrating National Parks and Recreation Month with the Movie Madness Tournament in July 2018! Each week, residents will be able to vote on their favorite movies from a 16-movie pool and eventually choose which will be crowned the Movie Madness Champion and screened during our End-of-Summer movie night on Saturday, August 4 at Duck Samford Park.
The Movie Madness Tournament Schedule is as follows:
Sweet 16: July 2 - 6, 2018
Elite 8: July 9 - 13, 2018
Final 4: July 16 - 20, 2018
Championship Round: July 23 - 27
The first round of matchups will be announced on Monday, June 25. Facebook voting will begin at 8 a.m. on Monday morning and close at 8 p.m. on Friday evening each week. Weekly winners will be announced on Saturday mornings by 10 a.m. on the Movie Madness Facebook event page.
The pool of movies is as follows:
101 Dalmatians (1961)
A Wrinkle in Time
Aladdin
Annie (1982)
The Aristocats
Beauty and the Beast (2017)
The Jungle Book (2016)
Kubo and the Two Strings
Mary Poppins (1964)
Pirates of the Caribbean: The Curse of the Black Pearl
The Princess and the Frog (2009)
Quest for Camelot
Snow White and the Seven Dwarfs (1937)
Tarzan (1999)
The Thief and the Cobbler
Treasure Planet
Final Four (Week 3) Matches are as follows:
The final winner will be announced on July 30. To participate, residents will to visit the City of Auburn Facebook page and join the Facebook event group (which will be published Monday, June 18). For more information about National Parks and Recreation Month, visit nrpa.org.