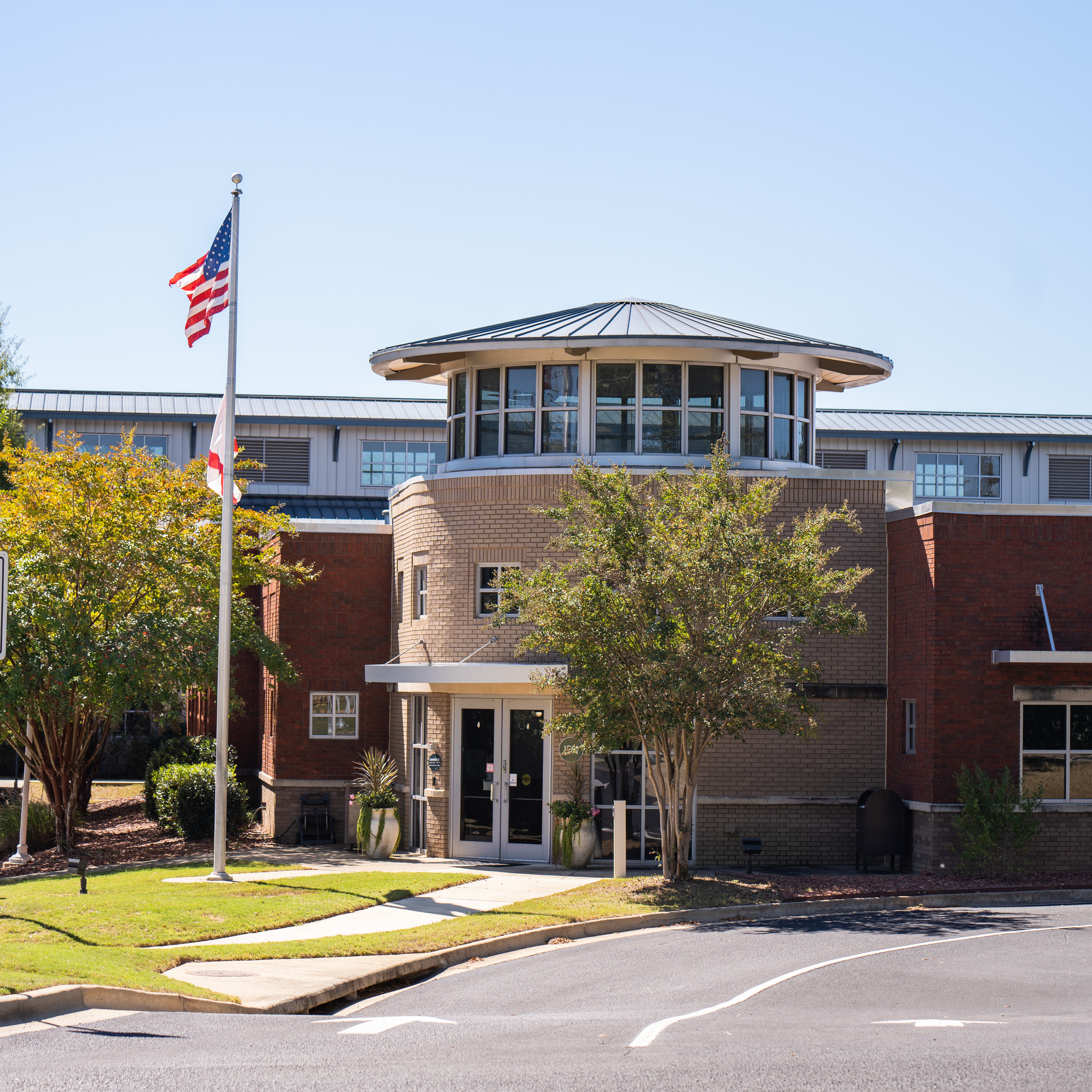 The Bailey-Alexander Complex
1501 W Samford Ave
M-F

7:30AM-4:30PM

Matt Dunn, P.E.
WRM Assistant Director
History of Wastewater Treatment in Auburn
The City's original wastewater treatment plants were constructed in 1958. The original Northside WWTP was located where Hickory Dickory Park is currently located and the original Southside WWTP was located just south of the intersection of Wire Road and Shug Jordan Parkway near where the Auburn University Research Park is currently located.
In 1985, the City's current wastewater treatment facilities were constructed as well as the main sewer outfalls that collect and transport wastewater to these facilities for treatment. The H.C. Morgan Water Pollution Control Facility (WPCF), located off Sandhill Road, was originally constructed with a treatment capacity of 5.4 million gallons per day (MGD) and the Northside WPCF, located at the end of Richland Road, was originally constructed with a treatment capacity of 1.6 MGD. Both facilities have undergone numerous improvements since original construction. The H.C. Morgan WPCF currently has a permitted treatment capacity of 25 MGD (max month average daily flow (MMADF)), while the Northside WPCF currently has a permitted treatment capacity of 2.2 MGD MMADF.
In 2005, the City contracted with CH2M Hill to evaluate and assess the performance and condition of the Northside WPCF and to determine its future role in wastewater treatment in the City of Auburn as part of a wastewater treatment and disposal master plan. The Northside WPCF was further evaluated as part of the City's wastewater facilities master plan in 2010 and 2015, as well as the Saugahatchee Total Maximum Daily Load (TMDL) Implementation Plan that was submitted by the City to ADEM in July 2009. In 2009-2010, the City constructed a new transfer pumpstation at the Northside WPCF as well as a new pumpstation just north of I-85, in addition to the force main and gravity sewer connecting the pumpstations. Based on recommendations outlined in the Facilities Master Plan, as well as the TMDL Implementation Plan, the City ceased discharge from the Northside WPCF on January 30, 2013. The Northside WPCF currently serves as a pumpstation and all flow is conveyed to the H.C. Morgan WPCF for treatment. The City has maintained the Northside WPCF's discharge permit and waste load allocation to Saugahatchee Creek so that the Northside WPCF could be reopened at some point in the future should development necessitate the reopening of the facility.
One interesting fact about the City's wastewater treatment facilities is that they were the first privatized wastewater treatment facilities in Alabama and one of the first privatized operations in the United States. The City of Auburn owns the wastewater treatment facilities and contracts operation of the facilities to a private operations company. The wastewater treatment facilities and pumpstations are currently operated and maintained by Veolia Water North America – South, LLC (www.veolianorthamerica.com). Veolia is one of the largest environmental contract operations groups in the world with operations spanning multiple continents.
Wastewater Treatment Process
The H.C. Morgan WPCF is a conventional, activated sludge wastewater treatment facility that treats wastewater to a secondary effluent treatment standard. Treatment processes include screening, grit removal, biological treatment, secondary clarification, ultraviolet light disinfection and solids thickening, digestion and dewatering.
Effluent from the H.C. Morgan WPCF is discharged to Parkersons Mill Creek. Prior to discharge, the effluent must meet very strict monitoring and discharge limits established by ADEM in accordance with the facility's National Pollution Discharge Elimination System (NPDES) discharge permit.
Biosolids produced at the H.C. Morgan WPCF are treated to a Class B standard in accordance with the Code of Federal Regulations Part 503 – Standards for the Use or Disposal of Sewage Sludge. Additional information on the federal biosolids regulations can be found at: www.epa.gov/biosolids. Biosolids generated at the facility are land-applied as a beneficial reuse product on a private farm nearby. Biosolids are a natural and endlessly renewable and available resource that provides organic matter and vital nutrients that are valuable for crop production and the environment. Additional information on the benefits of biosolids can be found at: https://www.wefnet.org/OnlineForm/onlineform_uploads/WEFFellowsProgram/uploads/29_Resume_Biosolids Messaging Book.pdf.
2022 Wastewater Treatment Statistics
Total Treated = 3.3 billion gallons
Average Treated = 8.958 MGD
Max Daily Treated = 22.241 MGD
Awards and Recognitions
The City of Auburn is very proud of the fact that its H.C. Morgan WPCF is recognized as one of most well-operated and maintained wastewater facilities in Alabama! A list of awards and recognitions is below:
• 2017 – Alabama's Water Environment Association (AWEA), Plant Excellence Award, Award of Recognition, Category 4: Municipal > 10 MGD
• 2018 – AWEA Plant Excellence Award, Award of Excellence, Category 4: Municipal > 10 MGD
• 2019 – AWEA Plant Excellence Award, Award of Excellence, Category 4: Municipal > 10 MGD
• 2022 – AWEA Plant Excellence Award, Award of Excellence, Category 4: Municipal > 10 MGD
For more information on AWEA's Plant Excellence Awards, please visit https://www.awea-al.com/annual-conference/award-nomination/.