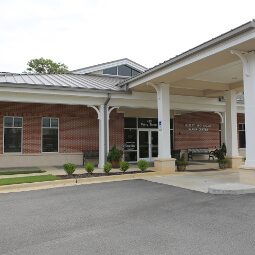 Harris Center
425 Perry St
Phone: (334) 501-2930
Hours:

M-F: 8AM-5PM

Sarah Holcombe
Aquatics & Special Events Coord.
Phone: (334) 501-2948
Email: sholcombe@auburnalabama.org
Auburn Parks and Recreation invites the community, growers and consumers alike, to join us on select Tuesdays of every month for the Monthly Market!
From 4:30 – 6:30 p.m., the Harris Center, located at 425 Perry Street, will host local farmers and growers to sell their produce and products. The first four market days will be as follows:
Tuesday, September 25
Tuesday, October 23
Tuesday, November 20
Tuesday, December 18
The November and December markets will be held on the third Tuesday of the month to accommodate the Thanksgiving and Christmas holidays. Market dates for January - April will be announced in early January.
Farmers and growers who are interested in participating in the Monthly Market must complete an application and submit their Grower's Permit to the Market Coordinator by the second Monday of the month of the market by 5 p.m. Materials may be submitted in person at the Harris Center (425 Perry Street) or via email to the Market Coordinator. Details and requirements for Monthly Market participants can be found on the Monthly Market Growers Application.
For more information about the Monthly Market, please contact the Market Coordinator.