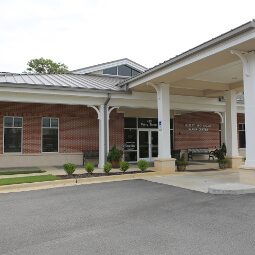 Harris Center
425 Perry St
Phone: (334) 501-2930
Hours:

M-F: 8AM-5PM

Gabby Meredith
Community Programs Coord
Phone: (334) 501-2946
Email: gmeredith@auburnalabama.org
Please register in advance for programs at the Harris Center Monday through Friday 8am - 5pm. Summer registration begins on Monday, May 1st. The first two weeks of registration are reserved for Auburn residents.
NEW TIME! Read and Reflect Book Club for Seniors
Join Auburn Public Library Literacy Programming Coordinator, Kari Carpenter, on the last Tuesday of each month as she leads a discussion on a selected book. Each book is available for check out at the Auburn Public Library, located at 749 E. Thach Avenue. Please call 334-501-3190 to reserve your copy today. FREE to the public.
Tuesday, May 29: The Last Castle: The Epic Story of Love, Loss, and American Royalty in the Nation's Largest Home by Denise Kiernan
The fascinating true story behind the magnificent Gilded Age mansion Biltmore—the largest, grandest residence ever built in the United States. The story of Biltmore spans World Wars, the Jazz Age, the Depression, and generations of the famous Vanderbilt family, and features a captivating cast of real-life characters including F. Scott Fitzgerald, Thomas Wolfe, Teddy Roosevelt, John Singer Sargent, James Whistler, Henry James, and Edith Wharton!
Tuesday, June 26: An American Marriage by Tayari Jones
Newlyweds Celestial and Roy are the embodiment of both the American Dream and the New South. He is a young executive, and she is an artist on the brink of an exciting career. But as they settle into the routine of their life together, they are ripped apart by circumstances neither could have imagined. Roy is arrested and sentenced to twelve years for a crime Celestial knows he didn't commit. This stirring love story is a profoundly insightful look into the hearts and minds of three people who are at once bound and separated by forces beyond their control. An American Marriage is a masterpiece of storytelling, an intimate look deep into the souls of people who must reckon with the past while moving forward--with hope and pain—into the future. (From the publisher)
Tuesday, July 31 - The Alchemist by Paulo Coelho
This story, dazzling in its simplicity and wisdom, is about an Andalusian shepherd boy named Santiago who travels from his homeland in Spain to the Egyptian desert in search of treasure buried in the Pyramids. Santiago has a dream about finding a treasure in the pyramids of Egypt. A gypsy woman and an old man claiming to be a mysterious king advise him to pursue it. "To realize one's destiny is a person's only obligation," the old man tells him. "And, when you want something, all the universe conspires in helping you to achieve it." With the courage of an adventurer, Santiago sells his sheep and travels to Tangiers in Africa.
Tuesday, August 28 - Educated: A Memoir by Tara Westover
This is an unforgettable memoir about a young girl who, kept out of school, leaves her survivalist family and goes on to earn a PhD from Cambridge University. Tara Westover was seventeen the first time she set foot in a classroom. Born to survivalists in the mountains of Idaho, she prepared for the end of the world by stockpiling home-canned peaches and sleeping with her "head-for-the-hills" bag. In the summer she stewed herbs for her mother, a midwife and healer, and in the winter she salvaged metal in her father's junkyard. When another brother got himself into college and came back with news of the world beyond the mountain, Tara decided to try a new kind of life. Westover has crafted a universal coming-of-age story that gets to the heart of what an education is and what it offers: the perspective to see one's life through new eyes, and the will to change it. (From the publisher.)
Age: 50+ Day: Tuesday Dates: 5/29, 6/26,7/31,8/28 Time: 1:30 - 2:30 pm Location: Harris Center
Contact: Gabby Meredith • (334) 501-2946 • gmeredith@auburnalabama.org
Hand and Foot Card Club - TWO SESSIONS!
Come together to enjoy one of America's favorite card games, Hand and Foot! Hand and Foot is a game related to Canasta, in which each player is dealt two sets of cards - the hand, which is played first, and the foot, which is played when the hand has been used up. Although most people say that Hand and Foot is best played by four people in partnerships, it can also be played by six in two teams of three, or by any number of people playing as individuals. The game is easy to learn and tons of fun! An experienced player will be present to help you get started so don't be shy! FREE to the public.
Age: 50+ Day: Wednesday Dates: 6/6 - 8/29 Time: 10 a.m. – 1 p.m. Location: Harris Center
Age: 50+ Day: Thursday (2nd, 4th & 5th) Dates: 6/7 - 8/30 Time: 4 - 7 p.m. Location: Harris Center
Contact: Gabby Meredith • (334) 501-2946 • gmeredith@auburnalabama.org
Golden Giving Days - Auburn Public Library
Each quarter we will focus on one local charity to donate our time to! This quarter we will be focusing on The Auburn Public Library and will help them by prepping their supplies for upcoming children's projects. If you have old books you are looking to donate, don't forget to bring them along! Sign up for one, two or all three sessions. Each volunteer will receive a free t-shirt. Limited to 15 volunteers. Please register in advance. FREE to the public.
Age: 50+ Day: Monday Dates: 6/18, 7/9, 8/27 Time: 2 - 4 p.m. Location: Auburn Public Library
Contact: Gabby Meredith • (334) 501-2946 • gmeredith@auburnalabama.org
Lunch & Bingo
On the first and third Tuesday of each month enjoy the opportunity to play bingo, catch up with friends, and delight in a scrumptious meal. Registration not required. $4 or bring a covered dish.
Age: 50+ Day: Tuesday (1st and 3rd of Month) Dates: 6/5- 8/21 Time: 10:30 a.m. - 1 p.m. Location: Harris Center
Contact: Gabby Meredith • (334) 501-2946 • gmeredith@auburnalabama.org
Munch and Mingle Lunch Club
Get together with old friends and make some new as we gather on the second Wednesday of each month for lunch at a local restaurant. Participants must provide their own transportation and cover the cost of lunch. Senior discounts may apply at some restaurants. Please register by 5 p.m. on Tuesday prior so reservations can be made for the group.
Age: 50+ Day: Wednesday Dates: 6/13, 7/11, 8/15 Time: 11:30 a.m. - 1 p.m. Location: Skyline Café, Fratelli's Rostorante Italiano, Rock N Roll Sushi
Contact: Gabby Meredith • (334) 501-2946 • gmeredith@auburnalabama.org
Get Out and Go! Local Adventure Club
Join us each month as we venture out to take advantage of the local sights and activities! Participants must provide their own transportation to each location. Look for directions and more details in the Senior Connection newsletter each month. Cost varies by activity. Please register in advance. Payable to the AAB.
May: JoAnn Fabrics - FREE - 5/30 - 1 - 2pm June: Capitol Plastic Product - FREE - 7/31 - 10-11am July: Pebble Hill Tour - FREE - 8/22 - 3 - 4pm
Contact: Gabby Meredith • (334) 501-2946 • gmeredith@auburnalabama.org