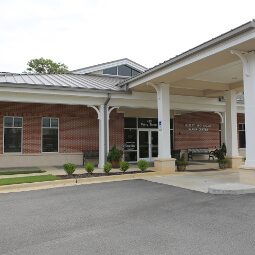 Harris Center
425 Perry St
Phone: (334) 501-2930
Hours:

M-F: 8AM-5PM

Rebecca Richardson
Parks & Recreation Director
Phone: (334) 501-2930
The Greenspace Advisory Board encourages the protection and conservation of greenspace, natural beauty, wildlife habitats, and critical environmental areas in the creation of neighborhoods in the City of Auburn and in the City's built-in environment.
Purpose Of Awards
To recognize special efforts contributing to the promotion, protection, and preservation of greenspace in the City of Auburn, the Greenspace Advisory Board of the City of Auburn is announcing two award levels, the Greenspace Partner Award and the Friend of Greenspace Award.
Timing Of Awards
There will be no announed timing of awards.
Nominations
•Nominations for both awards will be accepted from anyone in the community.
•Self-nominations are not accepted.
•Nominations can be submitted at any time of the year.
•Nominations should be submitted to the Greenspace Advisory Board using form here.
Greenspace Partner Award - awarded to developments, projects, or businesses that make significant contributions to greenspace
•Not more than 1 award per year, per entity
•Decisions are subjective; no scale or check list
•Submission of photos with nomination are encouraged
•An award recognition sign will be placed on the site for one month and a certificate of recognition will be presented to the recipient
Friend of Greenspace Award - certificate awarded to individuals or groups that promote greenspace in any way as defined by the mission of the GAB.
•Individuals as well as all types of civic groups, clubs, or organizations will be considered
•Number of awards given will not be limited; awarded as appropriate
•Submission of photos with nomination are encouraged
•Can receive award more than once a year if for different project
•A certificate of recognition will be presented to the recipient
Greenspace Award Nomination Form
For more information, please contact us at webparksrec@auburnalabama.org