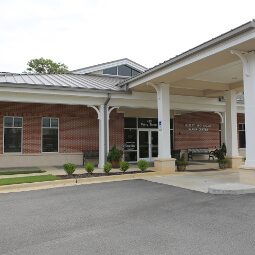 Harris Center
425 Perry St
Phone: (334) 501-2930
Hours:

M-F: 8AM-5PM

Gabby Meredith
Community Programs Coord
Phone: (334) 501-2946
Email: gmeredith@auburnalabama.org
Camp Kaleidoscope is currently FULL for 2018, but you can add your child(ren) to the waitlist by clicking the green button below.
Tips for Registration
*You can create an account prior to registration at https://www.active.com/
*Indicate how many children will attend each week by updating the quantity on the first page of registration. The second page of registration will allow you to enter the information for each child.
*There is no longer a "Full Summer" option. If you wish to send your child for all six weeks, please individually select all six weeks before checkout. To receive the discount, please enter full summer when prompted for a discount code.
*DO NOT Select Registration Protection administered by Booking Protect! You will already be refunded through COA should you choose to cancel your sessions by the deadline.
*Siblings will automatically receive the sibling discount.
*You will have the option to pay in full or make monthly payments. The final payment is due on Monday, May 7th.
Join us for lots of fun this summer at day camp! Each week of camp is filled with games, activities, swimming, art projects, special guests, and field trips. Campers can expect to discover new talents and abilities, make new friends, and have a blast!
Cost is $130/week; $100/week for each additional sibling. $680/person for the entire summer. Payable to COA.
Age: 6 - 12 years old. Campers must be 6 by their first day of camp.
Day: Monday - Friday
Time: 8 a.m. - 5 p.m. Drop off begins at 7:30 a.m. and pickup ends at 5:30 p.m. You will be charged $1 per minute you are late after 5:30 p.m.
Dates: 6/4 - 6/8, 6/11 - 6/15, 6/18 – 6/22, 7/9 - 7/13, 7/16 - 7/20, 7/23 - 7/27
Location: East Samford School. Drop off is at the gymnasium.
*No camp week of 6/25 - 6/29 and 7/2 – 7/6
*Cancellations must be made by Wednesday at 5 p.m. prior to the week you are cancelling in order to receive a refund.
*Campers must be registered by Thursday at 5 p.m. prior to the week they wish to attend. First priority will be given to those on the waitlist.
*Camp slots fill quickly. Early registration is encouraged.
2016 Camp Kaleidoscope